Highlights

●

Established in 1947, La Garenne School is situated in the magnificent Swiss Alps in the popular resort of Villars

●

Official French and English curriculum

●

Teacher student ratio: 1:2

●

Individual attention for each child

●

Warm family atmosphere in a bilingual international community

●

High-quality, holistic learning environment

●

To instill a life-long passion for learning

●

Health and safety for students are of vital significance
School profile

La Garenne International School, founded in 1947 and run by the second generation of the Méan family, welcomes children between the ages of 4 (Reception) and 14 (Year 9) of all nationalities from around the world. The school prides itself on its English-French bilingual approach, giving students expertise in two languages. Students follow the official English national curriculum, in parallel with developing a mastery of the French language. Academic excellence, a warm international family ambience in which diversity is welcomed, and a safe location in exceptional surroundings, are the core values of the school. La Garenne's mission is to promote respect, tolerance, politeness, global citizenship and self-challenge.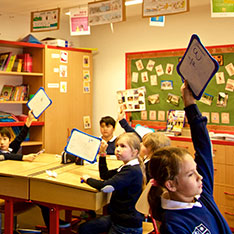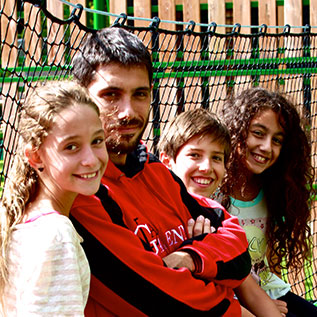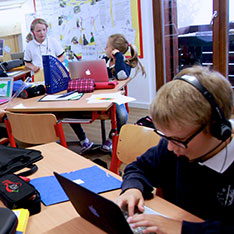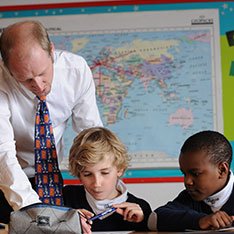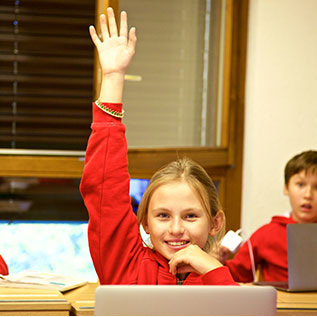 @ La Garenne School
Assure personal development of each child

La Garenne International School educates children from around the world, in a warm, family atmosphere. The school promotes the traditional Swiss values of openness, responsibility, precision, honesty, politeness and the benefits of being well organised. The ambience of its bilingual community emphasises the importance of human contact. The ambitious extra-curricular programme, exciting school trips and challenging expeditions, combine with the taught curriculum to offer the children a truly holistic learning experience. La Garenne strives to provide our students with a solid foundation to face the ever-changing world, enabling them to move along the path towards true global citizenship.

The core aim is to assure the personal development of each child. The objectives of La Garenne School are to:
●

Give each child Individual attention

●

Provide a warm family atmosphere

●

Guarantee a high-quality, holistic learning environment

●

Instill a life-long passion for learning
Core advantages
Values

● Individual attention ● International family atmosphere ● Global citizenship ● High quality learning environment ● Passion for learning

Academic excellence

● Global recognition ● Qualified, passionate teachers ● Educational programme in English ● French lessons for all students ● Small classes

Beyond the classroom

● Bilingualism ● Holistic education ● Art, drama & music ● Expeditions ● Clubs & activities

Pastoral Care

● Day & boarding students ● Ages 4 to 14 ● Safe & healthy environment ● Exceptional surroundings ● Modern facilities
Curriculum system

Enabling each individual student to achieve academic success and develop a passion for life-long learning and discovery are key objectives of La Garenne. The boarding environment ensures the stability and structure necessary for each child to thrive and develop. Parallel to this, the academic life of the school provides each individual student with stimulating and challenging programmes of study. The small class sizes favour a personalised approach to teaching, based on inquiry and investigative learning.

Teaching characteristics
A healthy body and mind is key to a child's success both within and outside the classroom. Here at La Garenne the children participate in timetabled sports and activities for an hour-and-a-half per day, which is an unusually high commitment. Whilst enjoying the various sports, the children learn about fair play, team building and develop leadership skills.
The qualified and highly motivated sports staff plan deliver an extensive indoor and outdoor programme.
Indoor sports:

Football, basketball, volleyball, hockey and other team games.

Outdoor sports:

Mountain biking, kayaking, cycling, skiing, cross country skiing, camping, hill-walking, running, golf, orienteering, etc.

Recreational activities for relaxation:

Cycling along the lakeside, trampolines and table tennis, trips to a laser game, swimming pool, cinema, giant maze, water park and ten-pin bowling.

Cultural and educational activities:

Visiting the Olympic Museum, historic castles and villages, discovering Swiss culture through cheese production, chocolate manufacture and casting cow bells appreciating art.

Fun and games:

Discos and costume parties, theatre/dance/singing performances, large scale mountain picnics and outdoor games, giant chess & card games, mountain evenings.
Admission procedures

1. Contact
2. Visit
3. Documents
4. Evaluation Test
5. Decision
6. Enrollment Fees
7. Visa & Swiss Student Permit
8. School Fees Payment
SCC's exclusive access

VIP visit: SCC Geneva office can arrange a VIP visit to the school for the Chinese families interested.

Easier admission procedure: Having long-term solid relationship with the school, SCC can help Chinese families from visa application to entrance procedure.
For more information of La Garenne International School, please contact sccenter@swisschinacapital.com
or visit: http://www.la-garenne.ch/