Highlights

●

Ski area – The Villars-Gryon-Les Diablerets ski area ranges from a height of 1,200 to 3,000 metres, offering a variety of runs (125 km) suited to all abilities.

●

Bretaye – starting point for numerous hiking and biking tours, and the main centre for winter sports above Villars, reachable by funicular railway.

●

Les Diablerets/Glacier 3000 – the highest point in the Vaud Alps, from there a breathtaking view of the finest peaks in the Alps.

●

Golf course – the 18-hole golf course at 1600 m offers an impressive panorama of Mont Blanc.

●

Lac des Chavonnes, Lac de Bretaye, Lac Noir – romantic mountain lakes.

●

Working salt mine in Bex – numerous galleries, shafts, staircases and vast halls: several kilometres of this 50 km long underground labyrinth are open to the public.
Discover Villars-sur-Ollon / Gryon

Situated at an altitude of 1300m, on a sunny south-facing terrace, the holiday resort of Villars-sur-Ollon in the heart of the Vaud Alps enjoys breathtaking views from Lake Geneva to Mont Blanc.

Villars offers an international ambience, with guests of all ages – there are a number of exclusive private schools located here. The International Schools in Villars and Gryon enjoy an excellent reputation, which has made the resort become a privileged hub for quality education for children all around the world. Gryon is located a little lower down, on the more easterly side of the valley. Together, they make up the holiday destination of Villars-Gryon.

The Villars-Gryon resort area has carefully protected its village ambience, despite strong tourism development, thanks largely to building codes and policies intended to maintain architectural unity. Old ancestral chalets sit alongside recent constructions in wood, all of which preserves a harmony that blends perfectly into the natural setting. The presence of numerous protected zones also allows nature to remain intact. Guests therefore find a typical mountain atmosphere, which lends itself to relaxation and renewal with a superb view.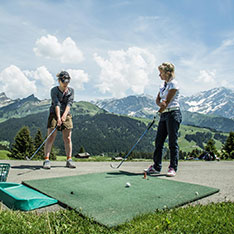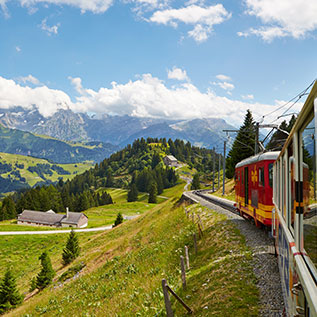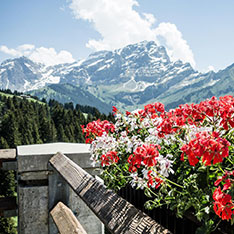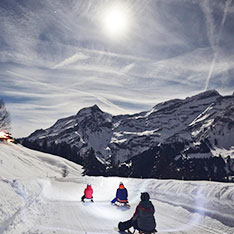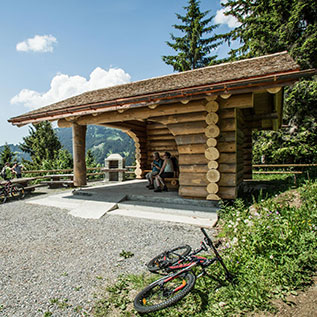 @ Villars-sur-Ollon / Gryon
●

Only 1 hour from Geneva, very convenient to reach either by car or train

●

Privileged hub for quality education offering some of the best Swiss Boarding schools

●

Hospitality and family oriented, one of the most popular ski resorts for families, whether for skiing, with 4 snow gardens, ski and snowboard instructors, hiking or other activities

●

Special offer to families, free for all the children until 9 years old and Free access card with access to more than 35 activities and facilities when staying in Villars

●

18 holes Golf course

●

Brand new swimming pool, ice rink, mini golfs, mud bike, archery, paddling, tennis on twelve outdoor courts, treetop adventure park at the bottom of the glacier, an indoor adventure park and more
Sports and Leisure Activities
Summer activities

In summer the main activities are hiking, mountain biking and golf. Visitors can choose from over 300 km of signposted footpaths and 150 km of mountain bike routes. One enjoyable tour leads up to the mountain lakes of Lac des Chavonnes, Lac de Bretaye and Lac Noir. Visitors can look forward to gastronomic walking tours and treasure hunts.
A beautifully scenic 18-hole golf course located at 1600 m allows you to play golf in the heart of the mountains, with views of Mont Blanc. Other sporting activities include an educational woodland walk with a picnic hut, Nordic walking trails, a sport centre with ice rink, swimming pool, climbing walls and a via ferrata (fixed-cable climb).

Winter activities

The skiing area of Villars incorporates the two smaller areas of Villars/Bretaye and Gryon and is also linked via the route over Le Meilleret with Les Diablerets skiing area, including a glacier skiing area at 3000 m. Altogether, this creates a skiing arena with 44 lifts and 125 km of ski slopes.
In addition there are three snowparks, a snow kindergarten, 44 km of cross-country skiing trails, sledging runs and numerous winter walking routes – not to mention a lively après-ski scene. Those in need of relaxation can visit the amenities and wellness centres at the thermal baths in Lavey.

Villars Sport Center

With its stunning views over the Alps, the Villars Sports Centre is open all year round, with 3 indoor carpet tennis courts, a multi-sports hall and, in the summer, 4 outdoor artificial clay courts.

Lavey-les-Bains thermal Spa

At the foot of the Alps, the Lavey-les-Bains thermal spa is fed by the hottest spring in Switzerland at a temperature of 62°. Guests can relax in the outdoor pool surrounded by nature, admiring the stunning mountain views, and take advantage of the spa's range of wellness facilities.

Vineyards

Although mountainous, the tourist region prides itself on its 2 wine-making regions, Bex and Ollon. With their unique climate and geography, these 200 hectares of vineyards are all located on south-facing slopes at the foot of the Pre-Alps. Many of the region's wine cellars welcome visitors to sample their wines and the Vine Trail is the ideal way for hiking enthusiasts to explore these sun-drenched terraces and sample the products as they walk.
SCC's exclusive access

Villars is the second home of SCC core teammates Philippe and Segolene. SCC provides VIP and exclusive access to all our key partners in Villars-Gryon such as hotel partner Chalet Royalp, ski rental, ski school, and gastronomy.
SCC provides tailor-made VIP program in Villars and area including:

●

Best private mountain guide for skiing and hiking.

●

Golf round in this unique mountain golf course with Julien Clement, one of the best Swiss golfer for many years.

●

Privileged visits of the 3 renowned Swiss boarding schools in Villars: Aiglon College, Beau Soleil and La Garenne International School.

●

Private VIP Tour of Geneva: 1h drive from Villars, meeting with Swiss Private Banks, SCC senior partners and more.

●

Exclusive access to wellness program at the prestigious Clinique La Prairie, 30 minutes drive from Villars.