School profile

Founded in 1910, Beau Soleil is one of the oldest private boarding schools in Swiss Alps. For a century since its establishment, the school has won global reputation for the family-style management and personalised courses, even attracting students from royal families in Denmark and Luxembourg. It provides a full boarding education for students from over 40 different nationalities aged 11-18 years old.

Owned by the de Meyer family until 2010 the school then passed into the Nord Anglia Education family of premium schools. Nord Anglia Education is the world's leading premium schools organisation, responsible for over 40 international schools located around the world. Through this association, Beau Soleil is able to retain its small family atmosphere and yet benefit from the aspirations and opportunities available within global networks of schools.
Act responsibly
Behave with respect
Be ambitious

Develop a sense of effort
critical awareness
self-discipline

Your child will be actively and passionately involved in all their learning and, as a result, make good progress.
Your child will be prepared to take risks in their learning and to learn how to cope when these go wrong.
Your child will have the determination and optimism to engage with life through all its ups and downs.
Core advantages

A balanced and personalised curriculum

A balanced and personalised curriculum combining academic studies, sports, expeditions and participation in artistic activities, which recognises students' individual talents, fosters their intellectual, creative and sporting strengths and opens theirs minds, enabling them to realise their full potential.

A stable family community

A stable family community built on traditional values and founded upon respect which promotes cultural diversity and exchanges, and enables students to develop their emotional and inter-personal skills.

An environment of outstanding natural beauty

An environment of outstanding natural beauty in the Swiss Alps providing a secure setting in which students may grow and flourish happily and healthily.

Students from all nationalities are welcomed into College Alpin Beau Soleil

Students from all nationalities are welcomed into Collège Alpin Beau Soleil. They are taught to appreciate, value and respect all cultures, religions and languages. Students learn to see themselves as global citizens and are asked to look beyond gender, class, race, nationality and culture to understand human nature.
Curriculum system

Beau Soleil offers two distinct, parallel systems: a French Section and an International Section. The programme of studies offers academic subjects up to university level, coupled with a holistic education providing art, music, drama, sports and expeditions encouraging all-round personal development.

French Section

The classes in the French Section extend from 6ème to Terminale, and prepare students for the official French government examinations - the Diplôme National du Brevet at the end of 3ème and the French Baccalaureate (series L, ES and S) at the end of Terminale. The subjects taught in the French Section conform to the requirements of the French Ministry of Education.

International Section

The classes in the International Section extend from 6th Grade to 12th Grade, and prepare students for the International General Certificate of Secondary Education (IGCSE) at the end of 10th Grade and the International Baccalaureate (IB) at the end of 12th Grade.

Accreditation

Beau Soleil is accredited by the Council of International Schools (CIS), the New England Association of Schools and Colleges (NEASC) and has been designated an IB World School by the International Baccalaureate Organisation (IBO). It is a member of the Swiss Group of Schools (SGIS), Round Square and the Swiss Learning Group. In addition, Beau Soleil is also a member of GESBF (Groupement des Ecoles Suisses qui préparent au Baccalauréat Français) and authorised by the Academy of Grenoble to offer the French Baccalaureate.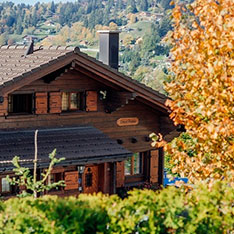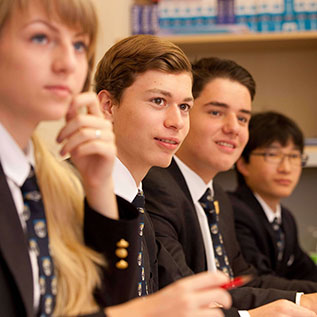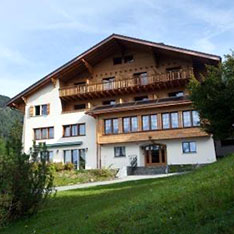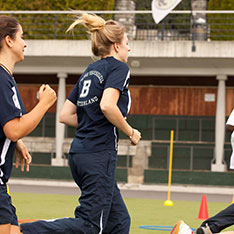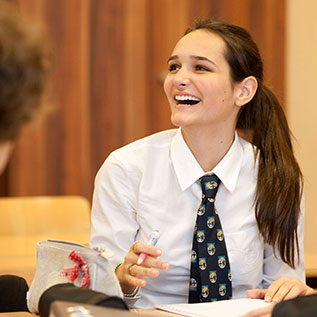 @ Beau Soleil
Teaching characteristics

Boarding
The provision at Beau Soleil is full boarding, meaning that students can be at the school throughout the school term, except during half term breaks. During these breaks pupils either return to their homes or explore the world on school trips.

Family environment
Beau Soleil has around 240 students. Its size is small enough for everyone to know one another yet at the same time allows the chance for students to learn to become more independent and to grow in confidence in a family environment.

Small class
Small classes ensure all students are involved in their learning. In regular meetings with both their teacher and their tutor, students are set personal targets to aim towards and are given clear feedback.

Co-curricular
Beau Soleil provides a stimulating academic curriculum in both English and French which is balanced with an extensive outdoor sports, expedition and service programme.

Monitoring Progress
Every pupil is closely monitored by his or her tutor.
Teaching achievement

International Baccalaureate Results 2012-2016
● 100% pass rate
● 44 highest points awarded
● 35 average points achieved

40% of Beau Soleil graduates received an offer from one of the top 50 universities in the world. The vast majority of its graduates go to top 150 universities or to amazing specialist schools like:
University of Oxford

Glion Institute of Higher Education

Ecole Hôtelière de Lausanne EHL

La Sorbonne, Paris

New York University

London School of Economics

Regent's University

Northeastern University

University of Rochester

University of Edinburgh

University College London

University of California Los Angeles

Goldsmiths College

Central St Martins, University of the Arts

Hult International Business School
Example for Class of 2016

Over 90% of our IB students have secured their first choice university places. There are currently 5 students going to top 50 universities in the world, including University College London, ranked 7th in the world, the London School of Economics(LSE) and the Ecole Polytechnique federale de Lausanne (EPFL), with 3 more waiting to hear from other top 50 institutions.
Admission procedure

1.Academic records and references for the student are required.
2.Visit to the school.
3. Personal interview during a school visit or through Skype.
4. Evaluation tests in math and English.
SCC's exclusive access

VIP visit: SCC can arrange a VIP visit to the school for SCC guests.

Facilitate admission procedure: Having long-term solid relationship with the schools, SCC can help our guests from visa application to admission application.
For more information of Beau Soleil, please contact sccenter@swisschinacapital.com
or visit: http://www.beausoleil.ch/